魚介由来のうまみ成分「コハク酸」を多量に生成することでViamver®酵母がこのたび、存在としての微生物特許、それを用いた発酵物の製法特許が認められました。
タブーとされていた業界外の菌で発酵させるなど、革新的な試験醸造製品からViamver®酵母が発見されたのは、遺伝子の交配の可能性や環境変化による生成物の変化によるものと推測されます。私たち基礎調味料の業界は、変わらない味を求められるため、過去の製法の反復に価値を見出してきました。しかし、イノヴェーションは新たな領域から誕生します。これは、マーケットから求められていなくとも、実験的取り組みが実を結ぶと信じ、粛々と続けてきた結果であると考えています。
この事実を客観的に証明しなければ、社会や業界に正確に伝えたことにならないという想いがあり、学会発表と特許出願を行いました。今回、特許が認められたことは、ひとつの試金石になったと思っています。ここからコハク酸のうまみに特化した製品づくり、また業界の垣根を超えた新商品を生み出していきたいと考えています。

発明の名称 耐塩性酵母およびこれを用いた発酵物
特許番号 特許第7138354号
特許権者 高茂合名会社
発明者 木村貴一、渡辺隆幸、上原健二、高橋泰
登録日 令和4年9月8日
.
Viamver® Yeast Patented
Viamver® yeast has now been granted a microorganism patent as an entity and a process patent for a fermentation product made with it, due to its ability to produce large amounts of succinic acid, a seafood-derived umami ingredient.
The discovery of Viamver® yeast in innovative test brewing products, such as fermentation with bacteria outside the industry, which had been considered taboo, is assumed to be due to the possibility of genetic hybridization and changes in products due to environmental changes. We in the basic seasonings industry have found value in the repetition of past production methods because of the demand for an unchanging taste. However, innovation is born from new areas. We believe that this is the result of our belief that experimental efforts will bear fruit, even if the market does not demand it, and we have continued to do so solemnly.
We felt that unless we objectively proved this fact, we would not have accurately communicated it to society and the industry, so we made a presentation at an academic conference and applied for a patent. I believe that the patent approval this time was a touchstone for us. From here, we intend to create products that specialize in the umami of succinic acid, as well as new products that transcend industry boundaries. _Microbiology

Title of the Invention Salt-resistant yeast and fermented products using the yeast
Patent No. 7138354
Patent Holder TAKAMO&Corp.
Inventors Kiichi Kimura, Takayuki Watanabe, Kenji Uehara, Yasushi Takahashi
Registration date September 8, 2022
.
獲得 Viamver® 酵母專利
Viamver®酵母通過大量生產來自海鮮的鮮味成分琥珀酸,作為一種存在物獲得了微生物專利,並獲得了使用它的發酵產品的製造方法專利。
Viamver®酵母是從創新的實驗性釀造產品中發現的,例如與行業外被認為是禁忌的細菌一起發酵,被認為是由於基因雜交的可能性以及因環境變化導致的產品變化增加。在基礎調味品行業,我們發現了重複過去製造方法的價值,因為我們需要保持不變的味道。然而,創新源於新的領域。我們相信這是我們不斷努力的結果,相信我們的實驗努力會結出碩果,即使市場並不需要它們。
我覺得除非我能客觀地證明這個事實,否則我無法準確地將它傳達給社會和行業。我認為這次獲得專利的事實是一個試金石。從這裡開始,我們要創造專注於琥珀酸風味的產品,創造超越行業界限的新產品

發明名稱 耐鹽酵母及使用該酵母的發酵產品
專利號 7138354
專利持有人 高茂合名会社
發明人 木村貴一、渡辺隆幸、上原健二、高橋泰
註冊日期 2022 年 9 月 8 日
.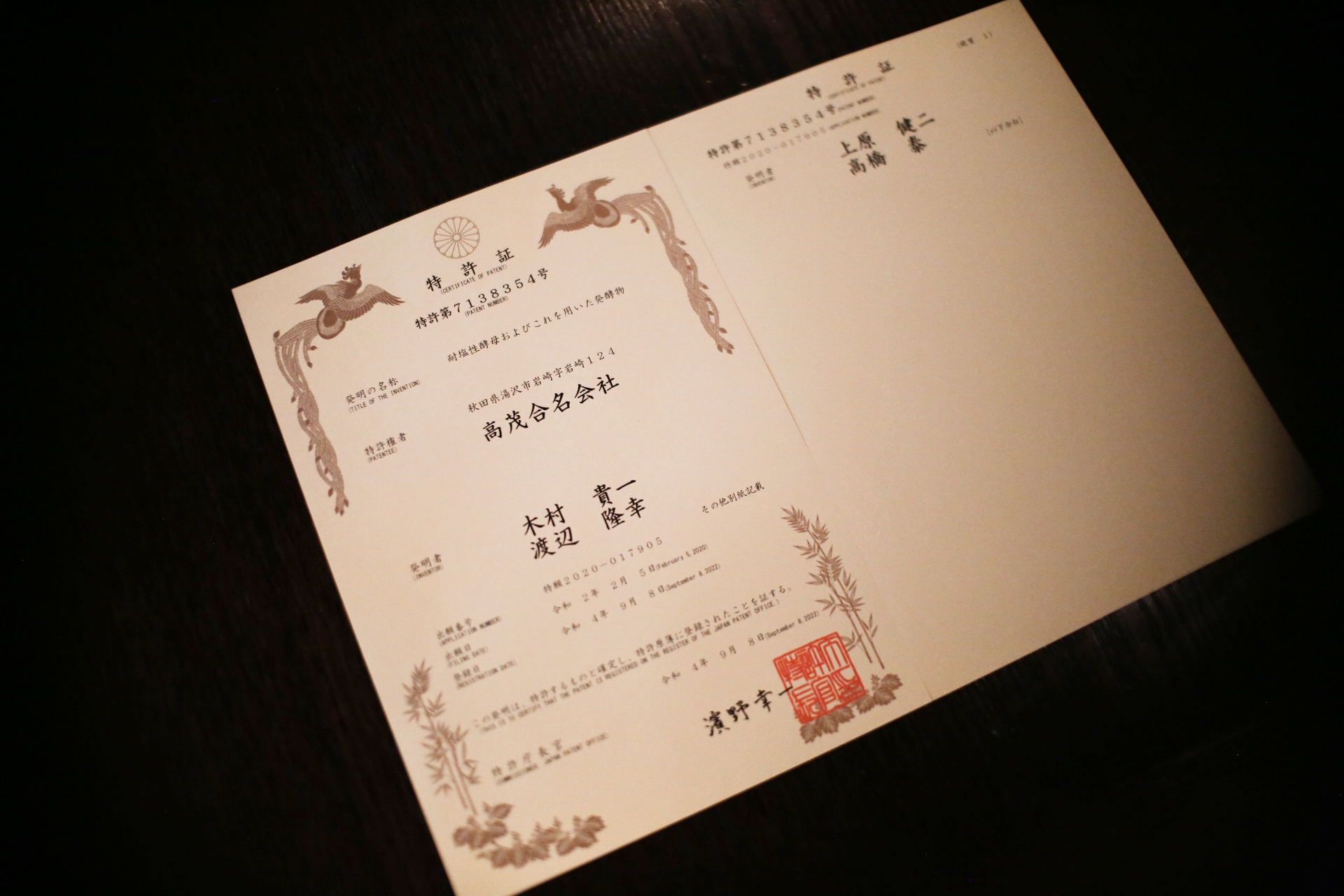 .